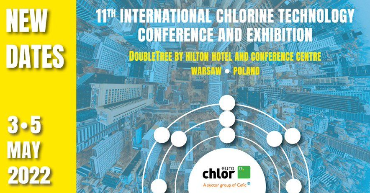 Tekno Valves is pleased to announce its participation as an exhibitor in the 11th Euro Chlor International Chlorine Technology Conference and Exhibition from 3-5 May 2022 at the DoubleTree by Hilton Hotel & Conference Centre Warsaw, Poland.
At the last conference in Berlin in 2017, over 350 delegates attended from 34 countries worldwide.
Tekno Valves is a global leader in designing & manufacturing of cylinder valves for Chlorine and other Corrosive & Toxic gases.
Our range of cylinder valves, critical to public health & safety, certified to European standards and regulations, shall be showcased in the exhibition (visit us at Booth No. 59).
To know more about the event click https://eurochlor2022.org/
To see the list of Exhibitors : https://eurochlor2022.org/exhibitors/