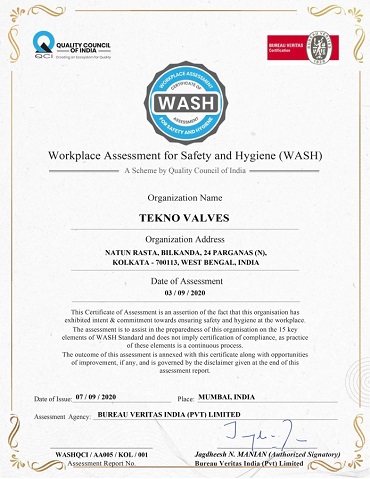 Prodded by COVID-19 pandemic affecting health and well-being of hundreds and thousands of people, Quality Council of India (QCI), along with industry stakeholders, has developed a harmonized standard "Workplace Assessment for Safety and Hygiene (WASH)" to help organisations assess their preparedness to restart and run operations safely against COVID-19.
Tekno Valves is pleased to announce that WASH assessment was successfully conducted by Bureau Veritas. It was conducted on-site based on the checklist covering parameters from WASH Scheme by QCI.
The successful audit has reinforced the adequacy of our SOPs, checklists, trainings, and containment efforts of the management ensuring-
• safe operations and workplace for safeguarding health and safety of employees, customers and public,
• compliance with all new COVID-19 related requirements from regulatory/health authorities and/or other Government bodies, and
• business continuity in operations to serve stakeholders.