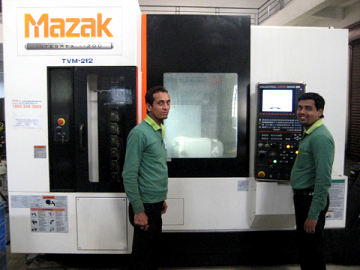 22nd May 2012 : Tekno valves is proud to announce the arrival of Mazak Integrex J200 in its fleet of CNC machines. MAZAK Integrex J-200, horizontal machining center, is the latest multi-tasking machine designed to deliver high speed, high accuracy machining and ease of operation. The machine is installed with SMW Autoblok AXN254/8X45 deg Indexing chuck and 36 tool magazine and will significantly enhance our multi-tasking machining capability.
Integrex J-200 with maximum machining size and length of 500mm and Bar capacity 65mm with Travels: X axis: 450 mm, Y-axis: 200 mm, Z-axis: 550 mm, B-axis indexing range: 220° and C-axis: 360° will allow Tekno Valves to machine complex components like Residual pressure valve body (Series CRPV-10) in single set up with unparalleled flexibility and accuracy.
This addition reinforces Tekno's commitment to technological advancement and will lead to higher productivity for the benefit of its stakeholders.